Main content starts here, tab to start navigating
Foodie?
Everything is made from scratch every day. Food is very fresh and made to order, every day, all day long.
Now that Covid-19 crisis is allowing restaurants to reopen we are now offering a full menu.
For a limited time we are closed on Tuesday's. Seasonal Hrs now are 4-10pm (Sunday 9PM).
Monday Half Pound Cheeseburger and Fries $7 Bucks!
Wednesday 10 Smoked wings for $9.95
Specials almost daily as well. Thanks in advance for your patience during this difficult time for all.
We are still with out beer and wine license but hope to receive it very soon.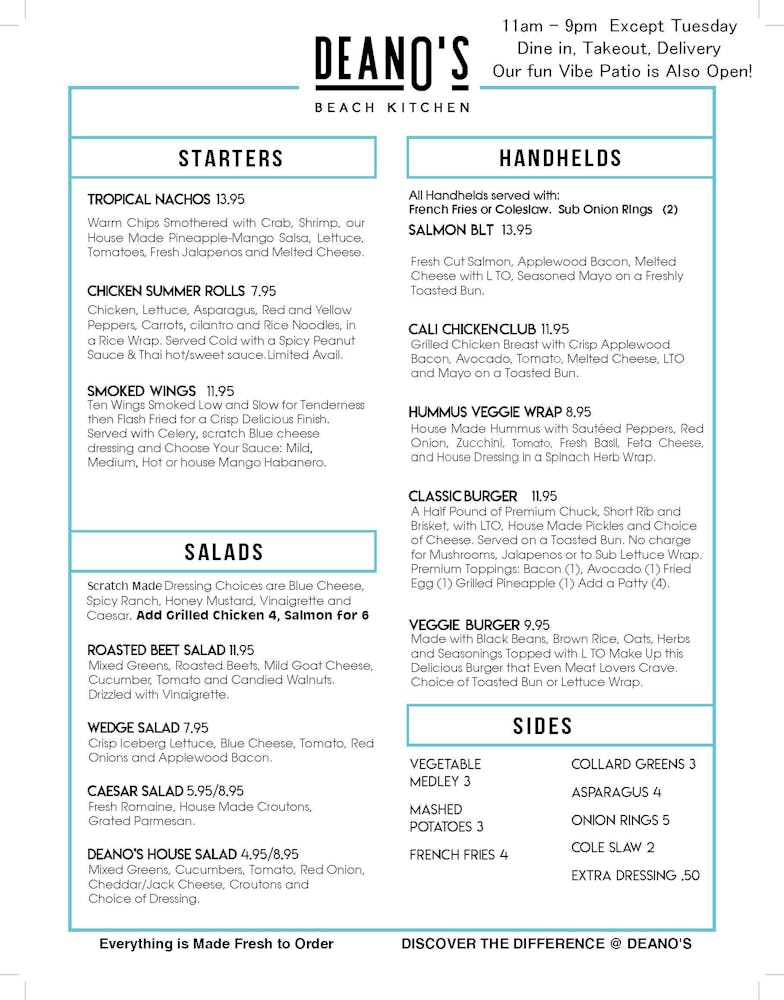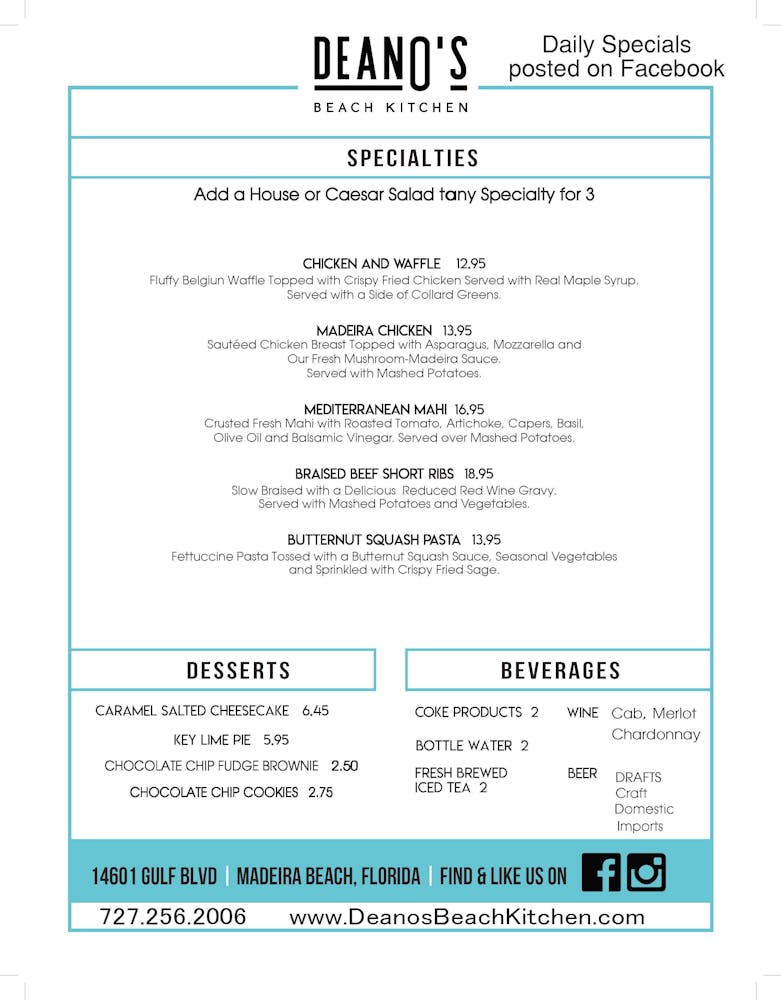 Download PDF
Starters
Chicken Summer Rolls | 7.95

Chicken, Lettuce, Asparagus, Red and Yellow Peppers, Carrots and Rice Noodles, in a Rice Wrap. Served Cold with a Spicy Peanut Sauce. Limited Availability.

Tropical Nachos | 13.95

Warm Chips Smothered with Crab, Shrimp, our House Made Pineapple-Mango Salsa. Lettuce, Tomatoes. Fresh Jalapenos and Melted Cheese.

Smoked Wings | 11.95

Ten Wings Smoked Low and Slow for Tenderness then Flash Fried for a Crisp Delicious Finish.
Choose Your Sauce: Mild, Medium, Hot or Mango Habanero.
Salads
Dressing Choices are Blue Cheese, Spicy Ranch, Honey Mustard, Vinaigrette and Caesar
Roasted Beet Salad | 11.95

Mixed Greens, Roasted Beets, Mild Goat Cheese, Cucumber, Tomato and Candied Walnuts. Drizzled with Vinaigrette.

Wedge Salad | 7.95

Crisp Iceberg Lettuce, Blue Cheese, Tomatoes, Red Onions and Applewood Bacon.

Deano's House Salad | 4.95 / 8.95

Mixed Greens, Cucumbers, Tomato, Red Onion, Cheddar/Jack Cheese, Croutons and Choice of Dressing.

Caesar Salad | 5.95 / 8.95

Fresh Romaine, House Made Croutons and Caesar Salad Dressing topped with Grated Parmesan Cheese
Specialties
Add a House or Caesar Salad to any Specialty for 3
Madeira Chicken | 13.95

Sautéed Chicken Breast Topped with Asparagus, Mozzarella and Our Fresh Mushroom-Madeira Sauce. Served with Mashed Potatoes.

Chicken and Waffle | 12.95

Fluffy Belgium Waffle Topped with Crispy Fried Chicken Served with Real Maple Syrup or Spicy Maple Syrup. Served with a Side of Collard Greens.

Mediterranean Mahi | 16.95

Crusted Fresh Mahi with Roasted Tomato, Artichoke, Capers, fresh Basil, Olive Oil and Balsamic Vinegar. Served over made from scratch Mashed Potatoes.

Braised Beef Short Ribs | 18.95

Our House Specialty of Slow Braised Beef Short Ribs with a Delicious Reduced Red Wing Sauce. Served with Scratch made Mashed Potatoes and Vegetables. This is our House Specialty !
Handhelds
All Handhelds served with French Fries or Cole Slaw. Sub Onion Rings (2)
Cali Chicken Club | 11.95

Grilled Chicken Breast with Crisp Applewood Bacon, Avocado, Melted Cheese, LTO and Mayo on a Toasted Bun.

Classic Burger | 11.95

A Half Pound of Premium Chuck. Short Rib and Brisket, with LTO, House Made Pickles and Choice of Cheese. Served on a Toasted Bun. No charge for Mushrooms, Jalapenos or to Sub Lettuce Wrap. Premium Toppings; Bacon ( 1 ), Avocado ( 1 ), Fried Egg ( 1 ), Grilled Pineapple ( 1 ), Add a Patty ( 4 ).

Hummus Veggie Wrap | 8.95

House Made Hummus with Sautéed Peppers, Red Onion, Tomato, Zucchini, Fresh Basil, Feta Cheese, and House Dressing in a Spinach Herb Wrap.

Salmon BLT | 13.95

Fresh Cut Salmon, Applewood Bacon, Melted Cheese with LTO, Seasoned Mayo on a Freshly Toasted Bun.

Veggie Burger | 9.95

This House Made Patty is Made with Black Beans, Brown Rice, Oats, Herbs and Seasonings Topped with LTO. Make up this Delicious Burger that Even Meat Lovers Crave. Choice of Toasted Bun or Lettuce Wrap.
Sides
Vegetable Medley | 3

Carrots, Broccoli, Cali flower toasted in a seasoned butter

Mashed Potatoes | 3

Made from scratch, skin on buttery, creamy mashed potatoes.

French Fries | 4

Asparagus | 4

Grilled fresh Asparagus

Onion Rings | 5

Collard Greens | 3

Made from Scratch Collard Greens with a depth of flavor.

Cole Slaw | 2
Desserts
Fudge Brownie | 2.50

Home made Fudge Brownie with Dark Chocolate Chips

Key Lime Pie | 5.95

Mike's Key Lime Pie

Caramel Salted Cheesecake | 6.45

Mike's Caramel Salted Cheesecake with caramel sauce

3 Chocolate Chip Cookies | 2.50

3 Made from Scratch Chocolate Chip Cookies
Beverages
COKE PRODUCTS | $2

Fresh Brewed Iced Tea | $2

Offering both Southern Sweet Tea and Unsweetened Tea
Slide 1 of 29
Slide 2 of 29
Slide 3 of 29
Slide 4 of 29
Slide 5 of 29
Slide 6 of 29
Slide 7 of 29
Slide 8 of 29
Slide 9 of 29
Slide 10 of 29
Slide 11 of 29
Slide 12 of 29
Slide 13 of 29
Slide 14 of 29
Slide 15 of 29
Slide 16 of 29
Slide 17 of 29
Slide 18 of 29
Slide 19 of 29
Slide 20 of 29
Slide 21 of 29
Slide 22 of 29
Slide 23 of 29
Slide 24 of 29
Slide 25 of 29
Slide 26 of 29
Slide 27 of 29
Slide 28 of 29
Slide 29 of 29